2018 Art Beat Poster Designed by Rick Podrasky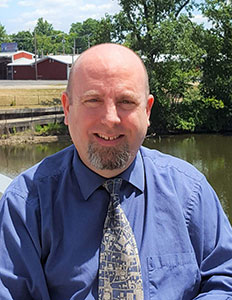 Rick has been a valued member of the Alliance family for over 5 years, with more than 20 years of experience in architectural design.
He primarily focuses on the design development, construction document and construction administration phases of the work.
He has acted as project architect for many corporate and government agencies, both national and international in scope and has recently completed projects for the University of Notre Dame and St. Pius X Parish.
Artist Statement from Rick Podrasky
My name is Rick Podrasky, and I have lived and worked in the South Bend area since relocating here from Washington, DC in 2004, ultimately returning to Indiana after having graduated with a degree in architecture from Notre Dame in 1991. I have been an architect for the past twenty years; however, I have been an artist and graphic designer for decades prior to that! I enjoy painting and sketching using a variety of media, but working in a digital format has been the primary means of expression these days…
My inspiration for this year's Art Beat poster has been our City's new flag, which is now starting to happily fly in our neighborhoods as well as our civic buildings. All the elements that make up Art Beat – music, art, food and dance – are celebrated emblematically against a big blue midwestern sky over the skyline of South Bend and the river that gave her its name.